Recent Posts
Post Catagories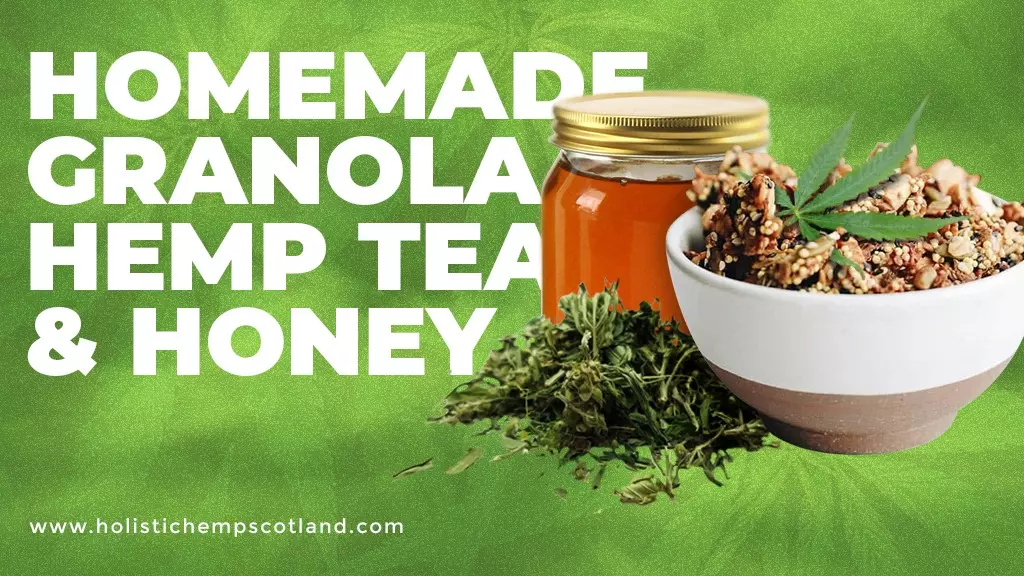 Usually, when it comes to breakfast, there are many of us who struggle to find the time to make something quick and nutritious. Whether it is a morning divided by work, getting your kids ready for the day or a busy schedule sometimes you find yourself realizing that you haven't actually eaten anything yourself.
The best way to ensure that you always have something that you can "grab and go" is to intentionally prepare a recipe that will last a few mornings. This homemade granola with hemp tea and honey is a favourite of ours as it is packed with such a delicious flavour, the benefits of hemp and honey along with a big batch that lasts for days!
Holistic Hemp Scotlands Homemade granola is really easy to make, packed with top-quality ingredients and is naturally sweetened. It's most definitely a great healthier and easy breakfast option. (PS: Once you try this easy homemade granola recipe, you won't go back to buying from the grocery store).
How Long Does Homemade Granola Last?
Homemade granola will last about 3-4 weeks when you allow it to cool down completely and store it in an airtight glass jar on your counter or in the pantry. If need be, you can freeze it for up to 3 months.
How To Make The Granola
Our homemade granola is so easy to make! The fun part about this granola is that there are so many different ingredient options that you can add for variations in flavour according to what you like. The crucial aspect in making great granola is knowing when it is done – plus ensuring that you give plenty of cooling time for the granola! As it cools down, it will continue to crisp and firm up, so even when it doesn't seem done, it is most certainly done when it is toasty! Another important aspect is using parchment or baking paper on a rimmed baking sheet. The paper will help the sweeteners from sticking to the pan and to the granola instead!
Ingredients
3 cup oats (NOT the instant kind)
1 cup honey or our CBD honey
2/3 cup water
1/4 cup olive oil
3 Holistic Hemp Scotland Hemp Tea Bags
1 teaspoon vanilla
Juice and Zest of 1/2 an orange
1 teaspoon ground cinnamon
2/3 cup seeds (sunflower, pumpkin etc – you can choose your preference)
1/3 cup nuts (almond, macadamia etc – you can choose your preference)
1/3 cup chopped dark chocolate or our CBD Chocolate (if you would like a sweet addition)
Cooking Instructions
Preheat the oven to 150 degrees Celcius.
Line a rimmed baking sheet with a large piece of parchment paper and set aside.
In a small saucepan, combine the olive oil, water, and honey and bring to a gentle boil.
Reduce the heat and allow it to simmer for approximately 5 minutes or until it is slightly thickened forming a type of syrup.
Turn off the heat for your saucepan and add in your tea bags, vanilla, orange zest, orange juice, and ground cinnamon. Let it sit for 3-5 minutes while the tea brews.
On the prepared baking sheet, mix the oats with the seeds and nuts that you have chosen.
Pour the syrup mixture over the granola ingredients and stir to combine.
Evenly spread the mixture into as much of a single layer as you can, slightly pressing the mixture into the pan.
Bake for about 35 minutes, occasionally stirring, until golden and toasty.
Allow the granola to cool completely on the baking sheet.
When completely cool, mix in the chopped chocolate.
Store in an air-tight glass container with a lid.
About the author : Alex Sikorsky