Recent Posts
Post Catagories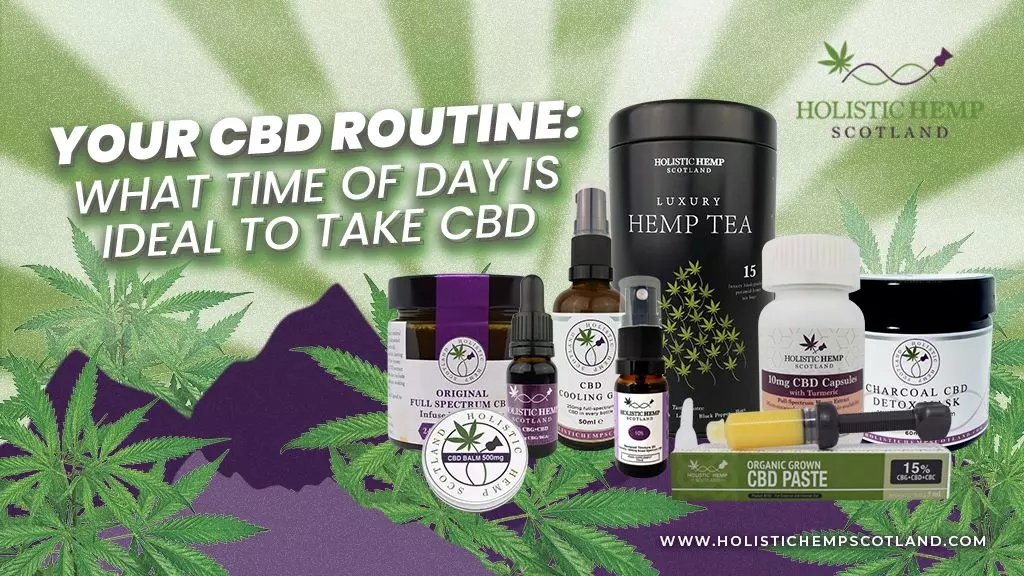 Here at Holistic Hemp Scotland, We Discusses The Perfect CBD Routine Designed For You
CBD has a soothing effect and helps maintain a healthy state of equilibrium. Finding a CBD habit that works for you is crucial. Before you find the ideal schedule, you might need to experiment with a few various approaches. CBD is a chemical that can bind to fat and can persist in your system for up to 28 days. Consistency is advised to optimise your desired results because taking it daily can cause a build up in your system over time. Your internal and external conditions ultimately determine how long you should take CBD.
Internal: How your body reacts to CBD following a regular regimen.
External: Your well-being objectives and what you're doing to support them (for example, getting more rest).
Bright And Early Mornings
CBD might be the solution for you if you struggle with morning sluggishness. While CBD won't necessarily offer you an energy boost like caffeine, it may have a relaxing impact in the morning and may help establish a healthy state of equilibrium. When used regularly, small doses have been shown to increase morning alertness and foster a stronger sense of focus.
We all enjoy a warm cup of tea or coffee in the morning, so why not add a few drops of your preferred CBD oil to make it even more special? Additionally, if you're anything like us, you probably have your morning cup at the same time every day, which increases the likelihood that you'll remember to take your medication.
The Dreaded Noontime Slump
Have you ever felt as though your energy had been sapped after eating? Do not be alarmed; the decrease in energy is simply a typical physiological reaction to your circadian rhythm. And CBD is beneficial. After lunch, a few drops of CBD oil can help you get over your exhaustion, improve your focus, and regain your morning zeal. To enhance the benefits of a CBD routine as part of your afternoon, keep in mind that it's ideal to avoid eating too much sweets during lunch and to take 5–10 minutes to get some fresh air and go for a walk.
A fast CBD snack could be just what you need to re-center yourself and conclude the day in a healthy and peaceful manner as you hustle to complete the last few items on your to-do list before it's time to call it a day.
Evening Relaxation
Give your body the help it needs to relax and quiet down as part of your evening routine, which is arguably the most popular time to utilise CBD. Allow CBD to support your natural circadian rhythm into the night while you calm your mind, lessen anxiety, and slow down your thinking. Even if you've had a hectic day, a good CBD routine will help you de-stress by promoting a sense of calm and relaxation.
You can either add a few drops to the meal preparation process or wait until you're all done to add your dose to your evening meals. It's recommended to add a few drops to your serving when plating if you're cooking for more people than just yourself.
Enhanced Sleep
Do you find it difficult to fall asleep when you're in bed? CBD might be able to help with certain sleep disorders and help you get a good night's sleep. This can help you feel energetic and focused more often.
Try CBD an hour before bed. This might promote a healthier sleep cycle and may help relieve stress while you replenish your body and prepare for the demands of the following day.
Important CBD Considerations
1. Maintaining Consistency
Similar to diet and exercise, CBD routines function best when regularly included into daily living. To allow CBD to accumulate in your body and deliver the long-lasting effects you seek, we advise taking it daily for a minimum of 21–28 days.
2. Create A CBD Routine
Setting up regular times to take your CBD each day is one of the greatest methods to be sure you are getting the most benefit from it. It either does or doesn't do what you want. Try it in place of something that makes it easier for you to sleep. Compare the performance of your product with the objectives you've set. To gain essential knowledge on how your body is reacted to CBD, we advise documenting your progress on a daily basis.
3. Establish And Follow Goals
Different people use CBD for various reasons. You might be trying to find peace during the hectic morning school run or something that will help you sleep better at night. Compare the performance of your product with the objectives you've set. To provide yourself helpful insights into how your body is responding to CBD, we advise keeping a daily progress log.
4. Take It Slow And Easy
You must find the CBD dosage that is best for you. Finding your sweet spot is a process because it depends on a variety of body-specific factors. If after a week you still don't feel any effects, we advise progressively raising your dosage.
5. Which CBD Products Is Best For You?
Investigate the ideal product for your CBD routine. Although CBD oil is the most well-liked form, some people prefer CBD pastes or CBD capsules since they provide a more practical approach to enhance your everyday routine.
Your CBD Routine Is As Distinctive As A Fingerprint
The most crucial lesson to learn is that there is no one best way to consume CBD. Finding what suits you and your way of life is important here, and then sticking with it. The good news is that there are many of possibilities, so before settling on your ideal CBD routine, don't be hesitant to experiment with various times of day or product types.
Holistic Hemp Scotland Offers Some Of The Best Full-Spectrum CBD Products On The Market
We are committed to providing customers with full-spectrum, premium CBD products.
You are utilising the power of our full spectrum CBD oil with every drop, making it convenient for you to live better. Our products are made to help you regain balance in your hectic daily schedule, encourage healthier sleep cycles, increase attention and concentration, and help you feel calmer and less stressed. long time before determining whether it has benefited you.
Please get in touch with Holistic Hemp Scotland if, after two weeks, you are not seeing any noticeable differences in your CBD routine.
If you're looking for a CBD oil to help you do all this and more, then head on over to our online shop and have a look at our full range of premium CBD products.
About the author : Alex Sikorsky