Recent Posts
Post Catagories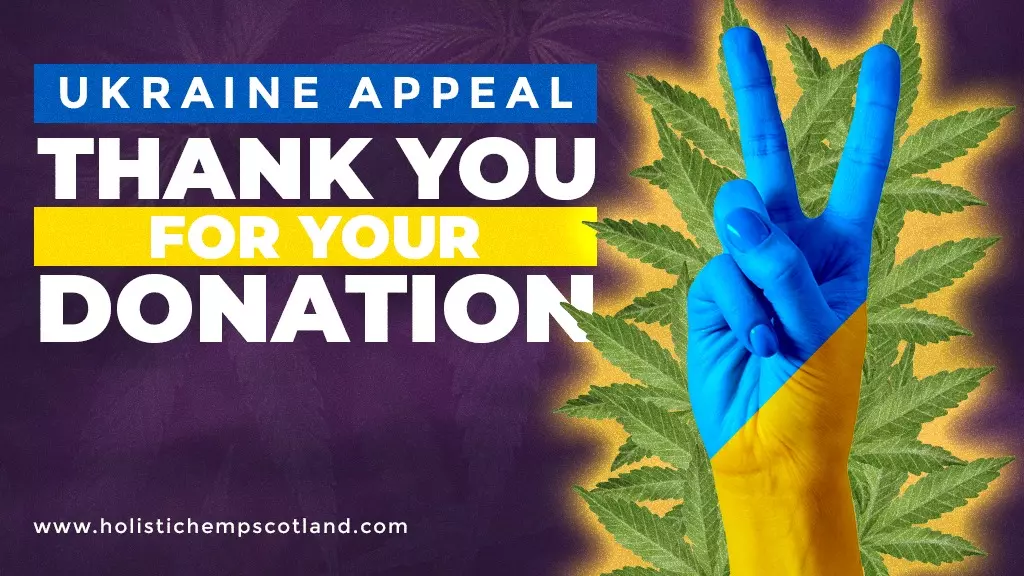 Holistic Hemp Scotland are supporting the Disasters Emergency Committee (DEC) Appeal for Ukraine.
As you know, the eight-year conflict in Ukraine has dramatically escalated. Heavy fighting, shelling and air strikes across Ukraine have had devastating consequences. The war has forced many families to flee their homes. People have left behind jobs, belongings and loved ones. Homes have been destroyed or are unsafe to live in. Critical infrastructure such as health facilities, water supplies and schools have also been damaged or destroyed.
The UN estimates that 4 million people could flee the country due to the conflict – the majority crossing the borders are women and children.
It can be easy to feel powerless in the face of so much devastation, heartbreak, and suffering, but there are practical ways to help and everyone can make a difference. DEC charities are working in Ukraine and in neighbouring countries, meeting the immediate needs of refugees and displaced people, who have been separated and have traveled with very little as they flee the fighting, in the the form of food, water, health assistance, protection and trauma care.
Did you know that just £30 could provide essential hygiene supplies for three people for one month. £50 could provide blankets for four families and £100 could provide emergency food for two families for one month. That is difference you are helping to make, and we are immensely grateful to you.
This crisis has shocked all of us and that is why we have decided to donate a portion of our profits to bring desperately needed help to those who require it now.
What will happen next is unclear, but with your help these charities can scale up their response and help families affected through this crisis. This money will go to organisations on the ground, who are supporting refugees crossing the border into neighbouring Poland, Romania, Hungary, Moldova and Slovakia, as well as to those displaced from their homes.
Our customers have helped us raise £1362.50 for the DEC this year and we are eternally grateful for your continued support. With the help of the Disasters Emergency Committee, 100% will be passed to local organisations and deploy funds almost immediately. They have identified several grassroots organisations who are on the frontline in Ukraine and have already commenced active support.
Our thoughts and prayers are with the people of Ukraine and everyone who is affected by this terrible situation, both near and far.
If you would like to help, simply purchase any product on our CBD Shop and we will continue to donate to the orginisation. For more information about our on going support of Ukraine, please contact us over email at info@holistichempscotland.com or call Holistic Hemp Scotland at 01575 520 272.
Important Information: The Disasters Emergency Committee brings together 15 leading UK aid charities, raising funds to quickly and effectively respond to overseas disasters and humanitarian crises. The Disasters Emergency Committee is a registered Charity No. 1062638. Company limited by guarantee registered in England and Wales No. 3356526.
About the author : Alex Sikorsky