Recent Posts
Post Catagories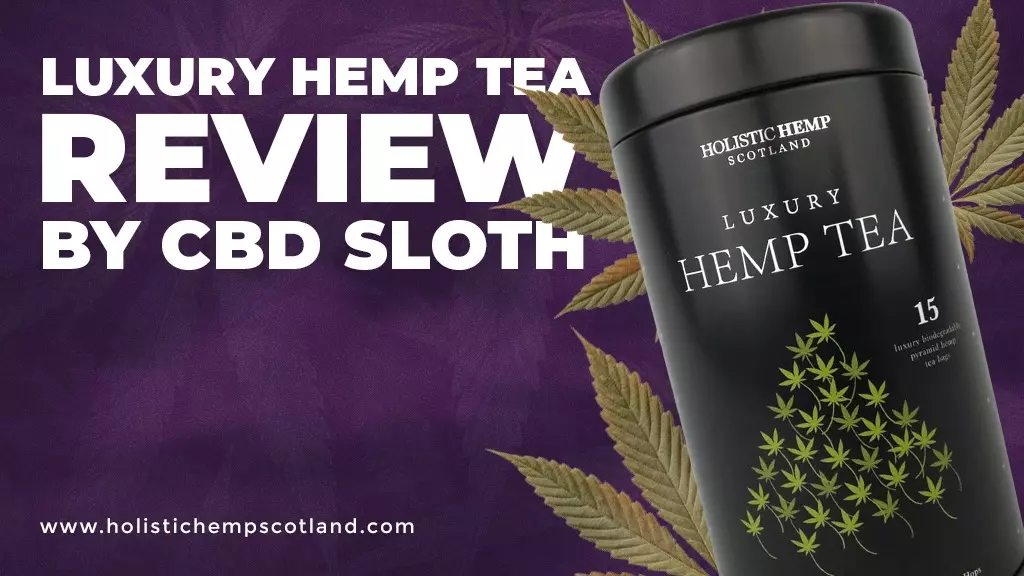 Tom is a big fan of drinking hemp tea, with a nice cuppa in the morning. He didn't fall in love with hemp tea over night, it took a while to get used to the taste, but now he absolutely adore it! He thinks the biggest learning curve for him was working out what to do to ensure you get the fatty source without affecting the flavour, but he digress, he will go into this in a moment, so he hopes you like his review of the hemp tea.
How Does It Taste?
We highlight the 'tasting notes' being pine, eucalyptus, lemon, black pepper and hops. He says from those, he could most taste pine and hops being the most notable tastes. It didn't have such a 'weed' smell, which many other CBD tea brands have. The flavour was soft and subtle, while it brought him a great sense of relaxation.
The herbal tea is hand harvested on small artisan farms within the EU, while it's then packed in the UK by the Tea People LTD. The tea is 100% vegan friendly, it's just then your choice what fatty source you combine to ensure it stays vegan friendly.
Each bag is packed full of antioxidants, that play a huge role in fighting of free radicals, the main cause of ageing as they damage your DNA.
You should keep the product out of direct sunlight, the same with every CBD based product, however it helps that it comes in a metal tin, so it will defend the tea bags a bit more against the rays from the sun if accidentally left in direct sunlight.
When Should I Have These?
While for most people he recommends having a CBD tea in the morning, as most contain caffeine, these are actually caffeine free, so you can choose the time that best suits you without having to worry about whether it will keep you up at night.
Consuming CBD in the form of a tea is a healthy and natural way to consume it, perfect for those who aren't a fan of vaping or the taste of CBD oil.
How long it takes to work? This was a difficult one to pinpoint precisely. With vaping it's almost instant, while with gummies it can take a couple of hours. With the hemp tea, he found it was around 1 hour, but everyone reacts differently and I would experiment until you find the right point.
What Fatty Source Do I Mix It With?
As stated in the opening description, you need a fatty source to ensure a greater level of absorption. For this reason, many people add a dash of milk, however he found he wasn't so fond of the taste when combined with milk.
It's a bit like mixing milk with green tea, personally he does not think it goes. So his alternative worked a dream and ensured high absorption levels without compromising on taste. He took a shot of MCT oil just as he was going to drink the tea, once it had cooled down and was ready to drink.
If you want to learn why including a fatty source is essential, you might want to read our article on carrier oils for CBD.
How To Brew This Effectively?
You should boil the water to 80-90 Celsius, before adding the hot water to your mug with the tea bag. You leave it 3-5 minutes before removing the bag and enjoying your cuppa. If you're adding some milk, add it a minute before it has finished infusing.
You can actually use the bags twice, but on your second cup, infuse the bag in the water for 5-7 minutes.
You can also add some honey or sugar to sweeten it if you like. There are plenty of CBD honeys available if you want to boost the level of CBD in your mug.
Where Can You Buy This From?
You can buy the Organic Luxury (Cannabis Sativa L) Hemp Tea from their website for £15. This comes with 15 luxury biodegradable pyramid hemp tea bags. That works out as £1 per cup, or 50p if you infuse it twice.
Reference
Bourlet, T., 2020. Holistic Hemp Scotland Luxury Hemp Tea Review. [online] CBD Sloth. Available at: https://cbdsloth.com/reviews/cbd-tea/holistic-hemp-scotland-luxury-hemp-tea-review/ [Accessed 16 December 2020].
About the author : Alex Sikorsky