Recent Posts
Post Catagories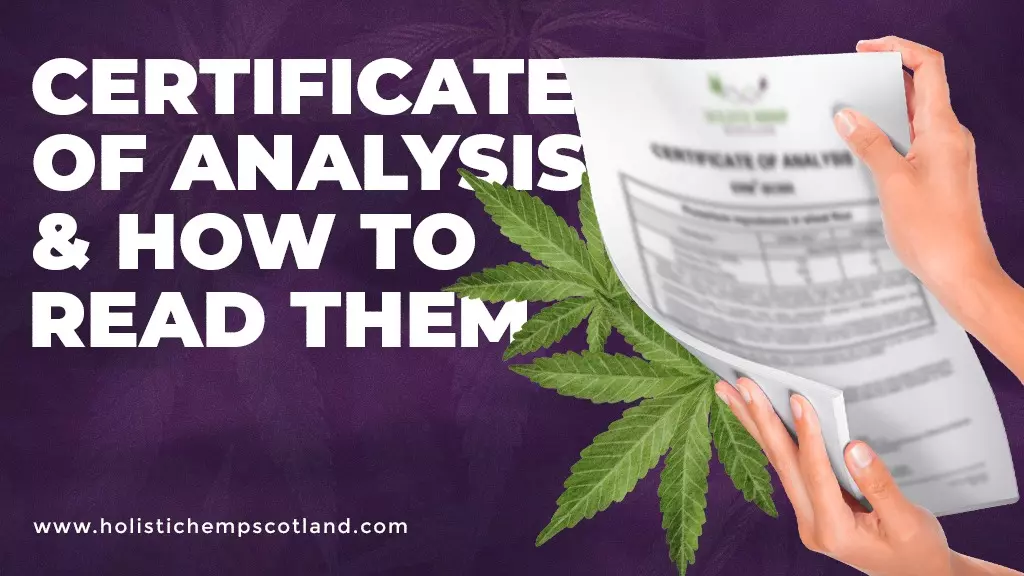 What Is A Certificate Of Analysis (COA)?
A certificate of analysis (COA) is a document that certifies that a regulated product fulfils its product specifications. They frequently contain the actual results of testing conducted as part of a product's quality control for a specific batch. All of our products are independently tested by renowned CBD labs at Holistic Hemp Scotland, and we mostly use PHYTOVISTA, a major UK CBD lab. This assures that all of our products contain the amount of CBD that we claim, as well as providing proof to our customers that our products are what we say they are.
What Is The Significance Of Requesting A COA?
The CBD sector, in the UK, has been flourishing in recent years, with a plethora of companies claiming to have high CBD content in their products. Consumers should insist on verification in the form of a Certificate of Analysis (COA), as this protects them from products that aren't exactly what they claim to be. With so many CBD merchants on the market, it's important to make sure you're getting a trustworthy product, and a COA from a third-party lab is one of the best methods to do so.
Phytovista
All of our products are tested at PHYTOVISTA, one of the leading UK labs. They have a comprehensive range of experience and skills to give precise findings, in addition to their state-of-the-art custom-built facilities. They test for 14 cannabinoids as standard – CBC, CBCA, CBD, CBDA, CBDV, CBDVA, CBG, CBGA, CBN, d8-THC, d9-THC, THCA, THCVA, and THCV – and are experts in chemical testing services such as composition, trace contaminant determination, metals analysis, unknown component identification, and compliance testing. This extensive testing assures that all of our products are tested, analysed, and validated for cannabinoid ratio and microbiological adequacy, as well as that they are devoid of parabens, artificial colours, and scents, as well as toxins and heavy metals. This also implies that our goods are vegan-friendly, gluten-free, and free of GMOs.
How To Read And Understand A COA
The information on the COA will be determined by each jurisdiction's regulations. The presence (or absence) of Tetrahydrocannabinol, also know as THC, in hemp products in the UK is the most significant regulatory hurdle. To be compliant in the United Kingdom, a hemp product must have less than 0.01 percent THC. This means that no trace of the THC compound can be detected. THC is psychoactive and is the substance that causes the intoxication associated with cannabis. By removing all psychotropic compounds from hemp products, the UK government has determined that they are safe for sale to consumers. PPM (Parts Per Million), PPB (Parts Per Billion), mg/g (milligrams per gram), percent w/v (percent of weight dissolved in the volume, or liquid), mg/ml (milligramme per millilitre), and % w/v (percent of weight dissolved in the volume, or liquid) are all examples of quantities used in a COA.
The illustration above is for our 10% CBD Dewaxed Tincture Oil. The lab that conducted the test, Phytovista Laboratories, is shown at the top. The first table lists the product that was tested, as well as the date it arrived and the method used to conduct the test.
The crucial information is found in the central table labelled "Cannabinoid Profile." It reveals that the product, for example, contains 94.11mg of CBD per 1ml of oil. This indicates that the 10ml bottle contains nearly 1000mg of CBD. According to the label, about 1000mg of CBD should be present. This is acceptable because it is within 10% of the label specification. The absence of any THC molecules in the middle table, as shown by the ND, informs the reader that this product is UK compatible because it is THC free.
COA On Labels
When the product is bottled, we will conduct another test to obtain a COA on the final CPG (Consumer Packaged Good). This COA on the label will inform the user of the amount of CBD, CBG, or THC included in the product (which should be zero). We term the result an ND, or Non-Detect, when there isn't enough material to measure. THC levels must be ND for a product to be compliant. To verify if the manufacturer is being truthful about what they are putting in their CBD products, compare the quantity of CBD on the product label to the amount of CBD declared on the COA.
Other Tests That Are Conducted For A COA
Manufacturers must follow significantly stricter criteria in regulated areas, such as the cannabis business, which can make a COA far more complicated. Pesticides, microbiological contaminants, heavy metals, mycotoxins, and residual solvents are all tested for in some cannabis jurisdictions. The severity of each will be determined by the government guidelines in effect in that area, and can range from extremely tight to incredibly lax. To maintain correct business ethics and procedures in this regulated area, all COAs must come from an independent 3rd party testing lab. Understanding these COAs will almost always necessitate some type of training to explain what the various units signify and what the permitted limits are.
Where To Find Our COAs
If you would like to see the batch results for a product you purchased, visit our Certificate Of Analysis page. Or, to secure the full certificate of analysis, get in touch with our team. We're always here to help.
About the author : Alex Sikorsky