Recent Posts
Post Catagories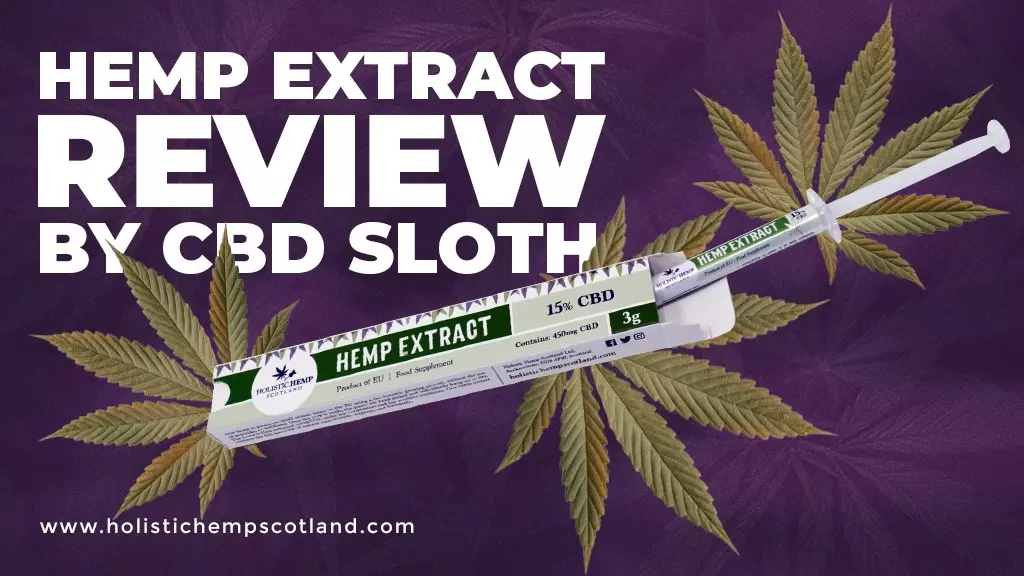 This is the second paste he has tried and reviewed by Holistic Hemp Scotland after the cannabis paste, which was packed full of CBG. This product is more focused on the CBD content, grown organically on an artisan farm in the EU. As much as he is surprised to say it, he very much coming round to pastes over oils, with greater lab report results on average and a very high quality product that worked really well for him.
How Much CBD Do You Get?
A single tube contains 450mg of combined CBD and CBDA. We recommend taking a 0.1-0.2 gram dosage each time, which would work out as 15-30mg of CBD/CBDA. We also state you could take this 1-2 times per day. He does like to take some in the morning and evening, but the evening is the most important time for him to helps him sleep. The amount you take and the time will depend on your reason for taking it, however you should always start of with a lower amount and build-up if you're new to CBD.
Something he has said each time he has used a paste is that it can be difficult to work out how much you're taking in a single portion. He think he was taking 0.2g each time during the testing period, but it is very hard to say. Honestly, it's one things CBD paste's in general need to tackle, a greater way for you to be 100% certain how much you've had, as he is merely guessing at the precise quantity he had. With oils, you can often get markers on the pipette, meaning you can see the measurements you're making (useful if using a 500mg oil and going for a straight-up 1ml or 1/5ml dosage).
Based on a consumption rate of 0.1g per day, this product will last for 30 days, however if you take it more regularly or in higher doses then the length of time it lasts will decrease. As with the oil, you place the CBD under your tongue for 1-2 minutes in order to enhance the absorption rate.
Beyond CBD and CBDA, the certificate of analysis also shows it contains some CBG, CBGA, CBN, THC, CBC, CBCA, CBDV, CBDVA and THCA. He a big fan of any hemp based products that don't scrimp out on the other cannabinoids, as you would be amazed by the amount that do, whereas this looks to have relatively impressive levels, much like the other paste produced by Holistic Hemp Scotland (who knows, he might move might focus from oils to paste in the future).
Why Opt For A CBD Paste?
You have so many options nowadays, you can try an oil, gummy, tea, coffee, vaping, cookies, brownies, topical treatments, chocolates and plenty more, so why opt for a paste? One reason is that a paste will generally contain more CBD than an oil. The oil is made from the paste, so you're getting it in its raw state before it's dissolved.
He don't think one is better than the other, but he does enjoy taking the paste. Coming in a syringe, you might not want this in your travel bag (not that he takes some through an airport in case the laws are different where ever he is heading or they give me a hard time).
You generally get a greater amount of terpenes in the paste over the oil, which can mean it will have a stronger aroma and taste. It will also often have a greater amount of amino acids and cannabinoids. As you can see above, there is a presence of multiple cannabinoids, from CBG to CBDVA, which might not be the case once it's converted to an oil.
The Packaging
He was worried that once opened, the liquid would leak out afterwards. This happened with a CBD paste he got from another brand (which he didn't post the review on as he wasn't happy with the experience at all), which didn't securely hold the oil in, it shot everywhere and really only had a one time usage. On the other hand, the lid used by Holistic Hemp Scotland can be screwed back on and there didn't appear to be any wastage or reduction in quality for follow-up uses.
Where Can You Buy This From?
You can pick up a Organically Grown CBD Paste by Holistic Hemp Scotland from on our website for £35. He has written about a number of their other products, so you might want to read through some of these reviews.
Reference
Bourlet, T., 2021. Holistic Hemp Scotland Hemp Extract Review. [online] CBD Sloth. Available at: https://cbdsloth.com/reviews/cbd-paste/holistic-hemp-scotland-hemp-extract-review/ [Accessed 02 February 2021].
About the author : Alex Sikorsky