Recent Posts
Post Catagories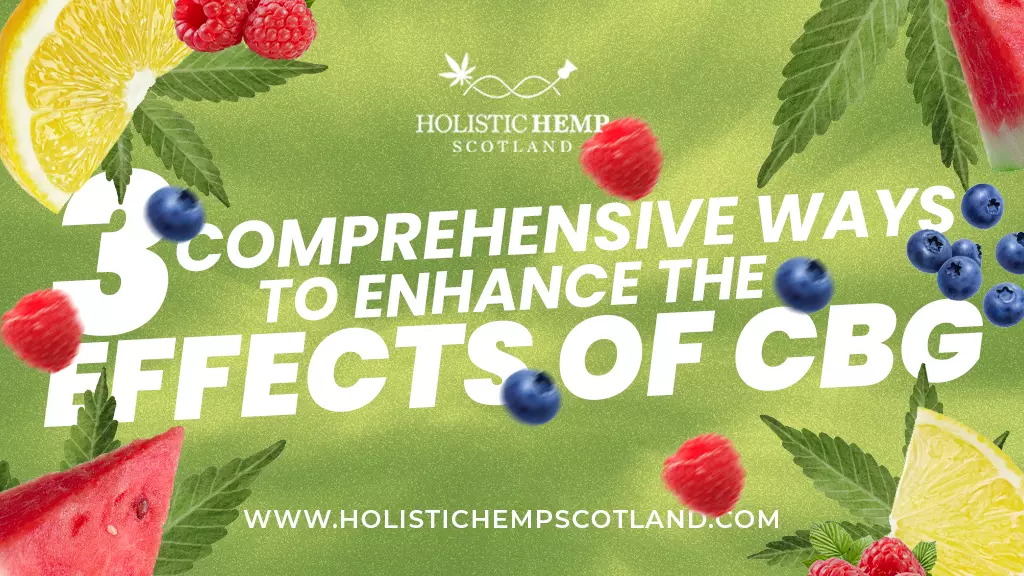 How To Incorporate CBG Into A Hectic Lifestyle
In this article, we will take a look at the effects of CBG. This is very important if you're considering adding CBG to your daytime routine and reaping the benefits from the cognitive boost, you can do a few other things to increase its effectiveness even more.
What Are The Side Effects Of CBG
Diarrhead
According to the website Glowbar CBD, diarrhoea is a serious adverse effect brought on by any CBG product. The cause is a signal from your digestive system that you have consumed too much of the substance and are unable to tolerate it. This is why your stomach may or may not respond to the intake. Another explanation is that if your body is unfamiliar with a product, it may react in an unexpected way in the stomach. Avoiding CBD products like oils and edibles, which come into touch with the digestive system, is a great way to combat this negative effect.
Fatigue
Another typical negative effect of ingesting CBG is fatigue. Nearly nine out of twelve are impacted. Tiredness was cited by some users as a positive side effect of CBG because it demonstrated the substance's efficacy. It is not advised to use higher doses of CBG because they could make you feel sleepy and fatigued, which could hinder your productivity. So it makes sense to take CBG while you sleep so you can rest if you get tired.
Alterations In Appetite
The majority of users have noted a change in appetite after starting CBG. Various ingredients are used to make CBG products. Some may increase hunger, while others may suppress it. However, due to individual body chemistries, effects vary from person to person. Your appetite may be stimulated or suppressed by higher dosages of CBG. You should not panic, though, as this stage will end after the chemical has left your body.
Dry Mouth
CBG is one of many cannabis compounds that cause dry mouth. However, contrary to what many people believe, it does not represent dehydration. Taking CBG may interfere with their ability to produce saliva, which is why they could suffer dry mouth. On the other hand, if you are new to CBG and have experienced dry mouth, you should drink more water or wait until it completely leaves your system.
Alterations In Weight
Because CBG has an impact on appetite, depending on how your body reacts, you might feel more or less hungry. It might cause a shift in weight. You can control your appetite, so there is no need to worry, but be careful not to overdo it.
1. Only Use CBG When You Need It
Most side effects of CBG are caused when taken in more significant amounts. Therefore taking it when you really only need it and in the required dose and ensuring it does not interact with the digestive is one of the ways you can avoid most of its side effects.
Furthermore always follow the product's instructions. Utilise the product in the suggested way and notice if it may lead to any developments. Please note while you experience any adverse effects, contact your doctor immediately.
With that in mind, there's really no ideal time of day to take this product. It all depends on what works best for you. The more you use CBG, the more likely it is you'll develop a pattern based on how it affects you at various times throughout the day. And of course, the easiest time to remember will likely be another contributing factor.
So save it for when you have the most challenging mental activities ahead of you or are entering an intense period at work.
2. Build Good Lifestyle Habits
Maintaining good lifestyle habits means a balanced and harmonious state of physical, mental, and social well-being. This is best achieved by consuming a sensible diet, getting regular quality exercise, and taking considered steps to preserve and maintain the internal and external functions of our body.
The second most important aspect of maximizing the benefits of CBG is to include other productivity-enhancing habits into your daily life. Getting enough quality sleep, eating nutritious food, and moving around regularly will help you improve your mental clarity and concentration.
So why not go for a walk, the easiest and simplest of changes you can instantly achieve. Also learn new skills. Either try something completely new or revisit an old passion such as a foreign language or a creative art or skill.
Challenge yourself to be as productive as you can. When you take CBG product, it will put you in a better place than it otherwise would, so when you're already productive, CBG can give you that extra finish that you need to be the best version of your working self.
3. Introduce Stress-Reduction Practices
Stress management is paramount if you want to keep your mental health in one piece. Stress relievers can help restore calm and serenity to your chaotic life. You don't have to invest a lot of time or thought into stress management. If your stress is getting out of control and you need quick relief, try one of these tips.
Daily meditation, mindfulness, and journaling are excellent ways to reduce stress and lower cortisol levels, which are associated with better cognitive function. Journaling can be especially beneficial if you're a "thinker" type and often struggle with racing thoughts.
Final Thoughts
To get the best out of your CBG products, it's important to know the dosage you need to be taking on a consistent basis.
Overall, CBG can be a great supplement to help you stay in the zone and do more stuff around you but don't expect it to be cost-efficient or work wonders.
About the author : Alex Sikorsky