Recent Posts
Post Catagories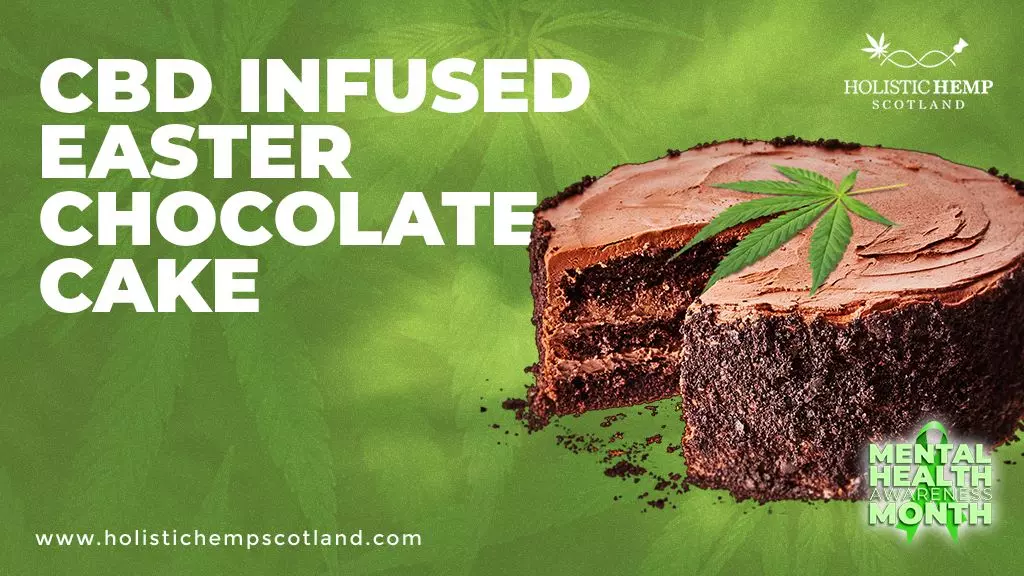 The best way to celebrate Easter is with tonnes of delicious chocolate! With this CBD-infused Easter chocolate cake, demonstrate your baking prowess.
Why not schedule some time for self-care during National Stress Awareness Month and unwind during the Easter weekend with our CBD hot cross buns?
Ingredients For CBD Infused Easter Chocolate Cake
For The Sponge
350g Butter or Baking Spread
350g Caster Sugar
6 Eggs Large
300g Self-raising Flour (or gluten-free alternative)
50g Cocoa Powder
1/2 tsp Baking Powder
1/2 tsp Bicarbonate of Soda
2 tsp mixed spice
2 oranges
1 egg (or egg replacement)
1 tbsp Milk (or plant-based alternative)
To Make The Crosses
For The Chocolate Buttercream
250g Butter (you can use dairy free, too)
450g Icing Sugar
50g Cocoa Powder
2-3 tbsp Milk (or plant-based alternative)
4-6 Pipettes of Holistic Hemp Scotland's CBD Oil of your choice (Please ensure you do not exceed your recommended daily dose)
Method To Make This Delicious CBD Infused Easter Chocolate Cake
Pre-heat your oven to 160C Fan/180C/350F/Gas Mark 4.
Grease and line two 8″ cake tins.
To make the sponge, mix the butter and caster sugar in a large bowl with a spoon or using an electric mixer, until fluffy.
Add the eggs and milk, and whisk until fully incorporated.
Add the self-raising flour, cocoa powder, bicarbonate of soda and baking powder. Whisk in until you can't see any flour anymore.
Divide the mixture between the tins.
Bake them for 35-40 minutes or until a thin skewer inserted in the middle comes out clean. Remove from the tin and place on cooling racks, leave until completely cool.
To make the chocolate buttercream, mix the butter, cocoa powder, icing sugar and CBD oil together. Once it starts to come together, add the milk and mix until smooth. We recommend an electric hand whisk to do this, but you can also do it by hand with a spoon.
If the buttercream is too stiff, then you can add a little more milk.
If the cakes have domed on top, you can level them off with a cake leveler or a serrated knife.
Put one of the sponges on your plate or cake stand spread some of the buttercream onto it.
Add the other sponge on top and pipe or spread the remaining buttercream on top.
Decorate with Mini Eggs and crumbled Flake!
Keep your leftovers in an airtight container in a cool place for 2-3 days.
Easter greetings from Holistic Hemp Scotland.
Disclaimer: We do not recommend this recipe as part of your regular dietary routine.
About the author : Alex Sikorsky