Recent Posts
Post Catagories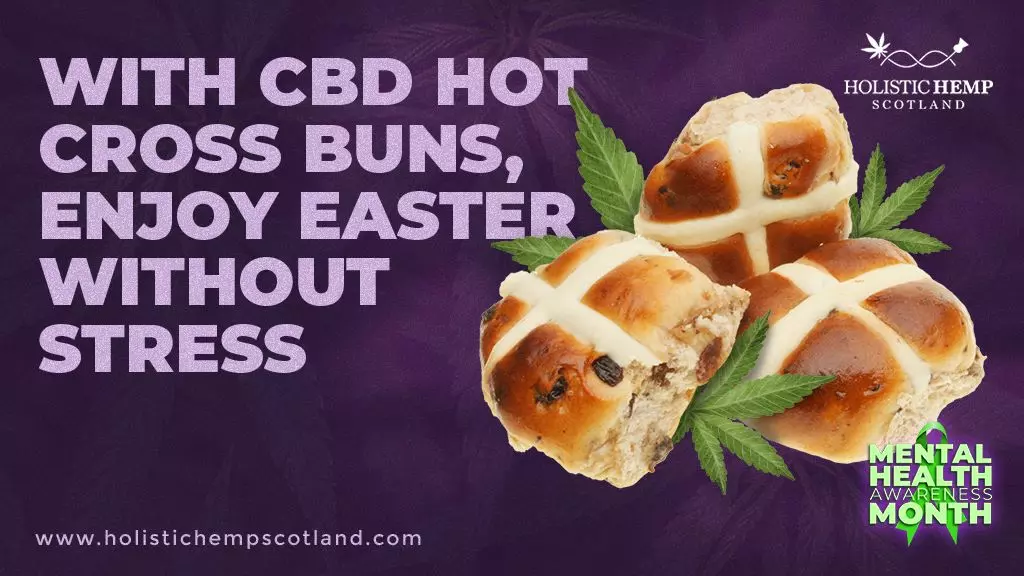 Have you ever considered putting CBD in hot cross buns to create the perfect Easter comfort food?
Why not schedule some time for self-care during National Stress Awareness Month and unwind during the Easter weekend with our CBD hot cross buns?
Ingredients For The Hot Cross Buns
500g strong white flour
100g dried cranberries
100g caster sugar
50g unsalted butter (you can use dairy free, too)
250ml milk (or plant-based alternative)
2 tsp of 25% CBD Raw Cannabis Paste
1 tbsp fast-action dried yeast
2 tsp mixed spice
2 oranges
1 egg (or egg replacement)
1 tsp of salt
To Make The Crosses
75g plain flour
5 tbsp apricot jam
1 orange
Method To Make Delicious Hot Cross Buns
Place the zest of two oranges in a bowl and set aside. Pour the juice into another bowl, add 75ml of boiling water and dried cranberries and leave to soak.
Pour the milk, butter and hemp oil paste into a saucepan and heat until melted. Turn off the heat and add the egg.
Mix together the flour, yeast and a teaspoon of salt. Then add the mixed spice and sugar. Make a well and pour in the milk mixture.
Drain the cranberries and add them and the zest to the mixture.
Once well-mixed, tip onto a flour-covered surface and knead for five minutes.
Grease a bowl with oil and place the dough to rest for one hour. Cover with cling film and leave in a warm place.
After one hour, turn out the dough and knead for a minute to knock-out any large air holes.
Divide the dough into 16 equal pieces. Roll pieces into balls and place onto baking tins lined with parchment paper.
Place a plastic bag over the baking sheets and leave for one hour to proof.
Next, heat the oven to 200 degrees Celsius and in a bowl, mix together the plain flour and five tablespoons of water. Spoon into a piping bag and pipe a cross on top of the buns.
Bake for 20-22 minutes.
To make the glaze: pour orange juice and jam into a pan and leave to simmer for 3-5 minutes.
Once the buns are finished baking cover with the glaze and leave to cool.
For individuals who use baking to reduce the effects of stress, this recipe is ideal. Approximately three hours will pass. You have three whole hours to spend on yourself! Make sure to allow yourself a little more time to savour your meal!
Easter greetings from Holistic Hemp Scotland.
Disclaimer: We do not recommend this recipe as part of your regular dietary routine
About the author : Alex Sikorsky